Clinton Grove Granite Works, Inc.
Monuments and Headstones



in Granite or Bronze


Cremation Memorials ~Pet Memorials Markers~Death Date Inscription
Address Blocks ~ Brick Paver Engraving

Let our Memorial Designers customize your memorial
by Offering Your Family:
* Exceptional Quality, Premium Colors and Artisan Craftsmanship for over 94 years.
* More Affordable pricing than other Memorial Services Providers such as Funeral Homes or Cemeteries.
* Exercise your choice - Avoid the Middleman, buy from the Manufacturer and save $$$$'s.
* Personalized designing consultations with our Memorial Designers who actually create and hand-craft
your memorial on site in our Clinton Twp. Michigan 48036 Workshop.
* Customized Designs, Laser Etchings, Computer layouts.
* Largest Outdoor Display and selection of 1st Quality U.S. Granites viewed in natural outdoor lighting.
* 1st Quality Bronze Memorials available.
* Servicing all local area Cemeteries with free delivery.
* Support your Local Small Michigan Business and Family Business.

Cemetery Memorials have many names:
Cemetery Monuments, Granite Markers, Gravestones, Headstones, Grave Markers, Grass Markers, Tombstones, Markers, Flush Memorials, Grave Memorials, Monuments, Upright Monuments and Family Monuments.
They come in many different shapes, sizes and granite colors. Some are traditionally carved, while others have diamond point etched designs. These memorials can be used on single graves, double graves, companion graves, cremations graves, Family Graves and Family Plots.
Cemetery Bronze Marker Memorials and Bronze Grave Markers are casted in Bronze and are available in singles or doubles/companion sizes.
They can also be used for Cremation Memorials and
Civic Memorial Plaques.
Clinton Grove Granite Works Inc. only offers First Quality Bronze Products from the most reputable Bronze Companies
Death Date and Lettering Inscriptions
We provide Death Date Inscriptions, Final Date Engraving and Lettering to existing Granite Memorials in Cemeteries or other locations
Click on the above Services & Designing Info Tab
or this picture.
Cremation Memorials
Cremation Grave Markers or Companion Cremation Memorials
may be used on a traditional single grave lot for two
cremation burials.
Garden Cremation Memorials
Rather than traditional burials people are choosing other options; Cremated Remains may be Inurned in a granite memorial marker. This cremation memorial may be kept in a home garden or memorialized on your families private property .




Our Granite Benches may be used in Cemeteries, as Garden Benches, Memorial Garden Benches or Civic areas Benches.
They are available in a variety of styles and granite colors.
Pet Markers and Pet Memorial Stones can be placed in Personal Gardens and Pet Cemeteries.
They are available in many sizes, styles and granite colors.
Brick and Granite Pavers

Tree Memorials

Address Blocks
Since quality workmanship is most important at Clinton Grove Granite Works Inc., we favor special clay bricks or granite bricks which can be used in Memorial Gardens Walkways and
Civic Memorials. Many different organizations use these for fund raisers.

Clinton Grove Granite can produce a variety of granite Memorial /Monuments and Signs for any occasion or purpose.
Civic Memorials, Business Name/Address Signs or
Subdivision Entrance Signs.
Call (586) 468-6992 for Personal Design Consultation for Affordable 1st Quality Artisan Memorials
We at Clinton Grove Granite Works, Inc., located in Clinton Township, MI 48036 encourage you to visit us in person.
We are proud of our longevity, serving the community with Memorials at this location since 1929

Give us a call today. OR
Please fill out this form in detail.
Clinton Grove Granite Works, Inc., representative will contact you within 24 hours to discuss your memorial in detail.
Simply click Submit to forward via e-mail clintongrovegranite@yahoo.com
or print and Fax to (586) 468-6992.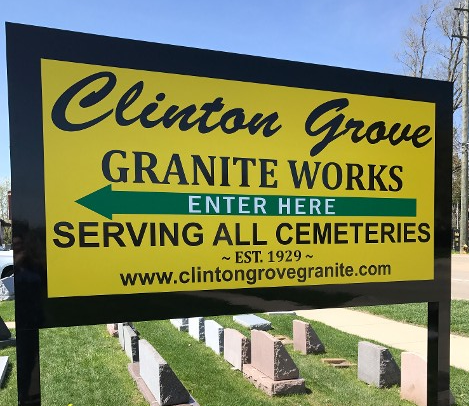 Our building is an impressive White Wood Historic Building located next to Lee Printing Company.
Across the Street from the Cemetery.
Turn in our Driveway located next to our Bright Yellow Sign.


Commemorating our 94
th
Anniversary Memorializing the Community at this Location!
Click the "About Us" Page Tab for our

Special Savings Anniversary Coupon

Our family-owned memorial and monument business is run by Jacob Katsock who believe that every cemetery memorial completed by Clinton Grove Granite Works Inc.

is the last special gift from the heart that our customers give their loved ones

.