Brick and Granite Paver Engraving
Paver Engraving and Tree Memorials
Used for Memorial Walkways, Tree Memorials and Garden Memorials.
Many school groups, community organizations, and Church's have used these bricks as a fund raiser to support the actual development of the area they are placed.
Since quality is most important, we use a special clay brick or granite brick that withstand varying weather conditions.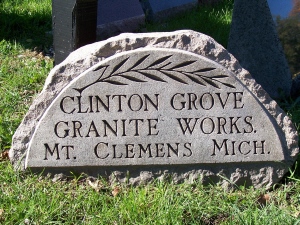 Address Blocks and Field Stone Engraving
Granite Memorials or Monuments and Bronze Plaques for any organization, community, occasion or purpose.



Granite Business Signs and Subdivision Entrance Signs



Quality Artisan Granite Signs or Bronze Plaques are not only uniquely impressive, but an investment that will last for many years.
Call (586) 468-6992 for Personal Design Consultation for Affordable 1st Quality Artisan Memorials.