"Customizing Your Everlasting Memories with Our Family Touch"



FREQUENTLY ASKED QUESTIONS
SOME OF OUR FREQUENTLY ASKED QUESTIONS. IF YOU HAVE MORE QUESTIONS, JUST CONTACT US.
1. Why should I purchase my headstone from Clinton Grove Granite Works, Inc.?
Clinton Grove Granite has an outstanding reputation that is founded on fine quality craftsmanship and customized memorials. From carved monuments to diamond point etched artwork, Clinton Grove Granite can provide memorials in any size or style of granite or bronze. We are one of the last monument companies to still provide traditional handcrafted workmanship from years past and also utilize CAD computerized designs with printed layouts. Our standards are only the best and are the highest of quality. Let our designers customize your everlasting memories with our family touch.
2. Do I have to talk to a high pressured, commissioned sales person?
NO, You will be speaking directly with our memorial designer who will actually create and handcraft your memorial on site in our Clinton Twp. MI workshop. We are a small family owned business with no commissioned sales people, you will probably be talking with Jacob himself. We provide personalized consultations during normal business hours and after hour by appointment.
3. What should I know before selecting my memorial or gravestone?
It is helpful to know what your Cemetry requirements are. Some cemeteries and memorial parks have very specific requirements regarding the size and style of your memorial marker. Clinton Grove Granite Works will do our best to guide you with your selection process based on your cemetery's guidelines and requirements.

4. What should I be aware of when ordering granite for gravestones or memorials?
Our many years of experience has taught us that there are different types and quality of granite. Coarse or large grain granite tends to be brittle and may not hold up as well in the Michigan seasonal climate changes. Some of the intricate designs or small lettering may break off due to water expansion or contraction within a course stone. When you choose a fine grain granite they are smaller and more tightly grained, which tends to withstand the elements better. Clinton Grove Granite Works carries a large selection of U.S. Granites quarried from Wisconsin, Minnesota, South Dakota, Vermont, and Canada. These granites are proven to retain their original style, lettering and withstand varying weather conditions. Clinton Grove Granite also stocks some of the imported granites too. During our design consultation, we can confidently direct you to the best granite for your memorial's design and lettering selection.

5. Do we offer Laser pictures/ etchings?
All of our Etching Designs are Laser etchings which are computerized fabricated drawings. The resemblance of the etching versus the actual picture being duplicated will amaze you. Laser Etchings are created on high quality polished Black Granite which gives the greatest details and contrast. Please realize that the clarity, details and quality obtained using this process is extremely remarkable. We are able to recreate a loved ones portrait from a clear 5 x 7 or larger photographs.

6.How will I order my headstone or memorial?
Clinton Grove Granite provides personalized design consultations to assist in the decision process of size, color, design, titling, and name and date layout. Once agreed upon, we complete a signed contract and the production of your memorial begins. We believe you are truly giving your loved one that last special gift from the heart and it is our job to make it as perfect as possible.

7. Do you manufacture or provide memorials other than flat granite?
Yes! You'll be happy to know that you cut out the middleman when working with Clinton Grove Granite Works, Inc. We deal directly with all the Granite Quarries who provide us with blank granite pieces for us to design and customize. We can provide a variety of styles and shapes of standing upright monuments, flat grass grave markers, gravemarkers, slanted headstones, beveled grave markers, pillar cremation memorials, flat bronze markers, pet memorials, engraved brick or granite pavers, address blocks, granite benches, and more.
8. How long has the company been in business?
Clinton Grove Granite Works Inc., Opened at this location, in this historic White Wooden building in 1929. See Below the interesting History and Background of this Clinton Township, Michigan Memorial Business.

Originally founded in 1929, Clinton Grove Granite Works. Inc., is currently being managed by Jacob Katsock. Who still provides the same loving care and service as the previous owner, David and past owner Herman. These two men are honored to have passed on the granite engraving craftsmanship and legacy business which has been around for more than 94 years. Preserving a tradition David has taught Jacob the business from the ground up. Teaching Jacob the highly skilled trade of stone carving and granite sandblasting that Herman first taught Dave many years prior. Jacob was taught to take great pride in his work and is one of the last grave marker engravers in the area who can still cut by hand, although he now mostly uses the computer. This skill, along with his artistic drawing ability and experience in the granite industry ensures only the highest quality craftsmanship in his memorials.

All the Proprietors of the past and present, believe in the family touch and that every sale is from "Our Family to Yours."
When asked, They all agree and believe ". . . that every memorial from Clinton Grove Granite Works is the last special gift from the heart of our customers to their loved ones. We treat every customer like their loss is our own."
Working with Clinton Grove Granite Works ensures that you will create the best lasting tribute possible for your loved ones.

For additional information about Clinton Grove Granite Works, Inc.'s history, you can reference articles published in the Macomb Daily:

Sunday, April 23, 1995, Section B, Preserving A Tradition

Sunday, March 12 2006, Pages 14A, Clinton Grove Granite Works Believes in Preserving Tradition of Craftsmanship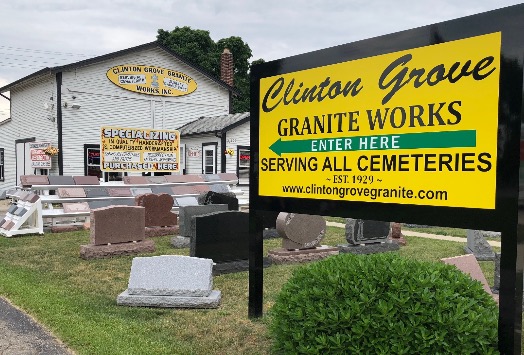 94th Anniversary Grave Marker
Spec

ial Coupon
10% OFF All In-Stock Inventory*
***************************************
* Must Present this SavingsCoupon BEFORE Ordering.
*Granite Only. *Not valid on prior Purchases.
*Can not combined with any other offers.
*No special Orders.
*Expires 6-1-2023



Call (586) 468-6992 for Personal Design Consultation for Affordable 1st Quality Artisan Memorials.
Personal Thank You and Testimonials